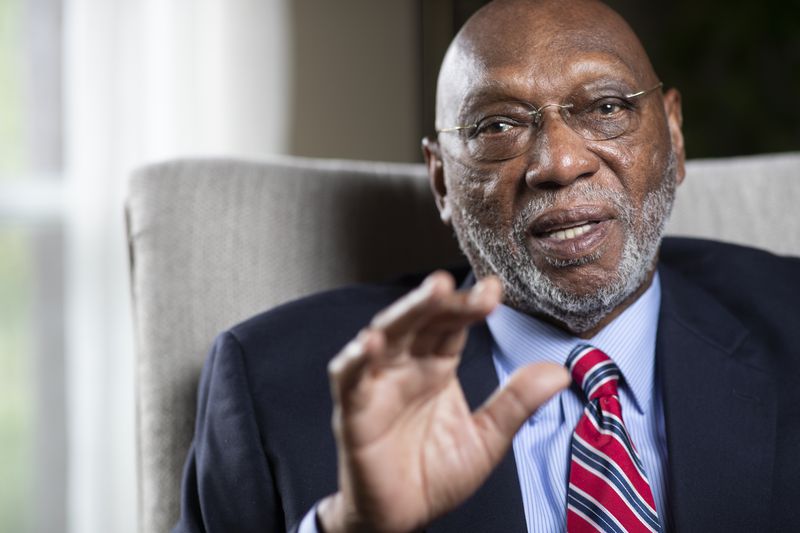 Seminole County Florida Names New Courthouse Annex After SAU Alumnus, Board Chairman, and Former Florida Supreme Court Justice Perry 
Featured image courtesy of Orlando Sentinel Photo/Willie J. Allen Jr. (Willie J. Allen Jr./Orlando Sentinel)
SANFORD, FL— The Orlando Sentinel reported that on June 22, the Seminole County commissioners honored former Sanford judge and Florida Supreme Court Justice James E.C. Perry by unanimously agreeing to name the new four-story courthouse annex being constructed at the county's Five Points Complex after him. Perry is an alumnus of the Class of 1966 and Saint Augustine's University (SAU) board of trustees chairman.
"He is not only such a kind and a wise man, but he embodies the soul of the American spirit in my mind," said Commissioner Jay Zembower, who proposed naming the courthouse building after Perry, said in a statement. "He persisted at a time when many people would have given up."
The new courthouse annex is part of a $65-million construction project scheduled to be completed in May 2023 that will also add a five-story parking garage adjacent to the Seminole County Criminal Justice Center.
"Now more than ever the world needs global leaders embodied in our alumni like Chairman Perry," said Dr. Christine Johnson McPhail President of Saint Augustine's University. "He is a trailblazer who has achieved in spite of adversity and the Saint Augustine's University community celebrates with him on receiving this well-deserved recognition."
Perry graduated from Saint Augustine's University with a degree in business administration and accounting in 1966. He said in a statement that he decided to pursue a career as an attorney after hearing of the assassination of Dr. Martin Luther King, Jr. while serving in the US Army as a first lieutenant in 1968. He earned his juris doctor from Columbia Law School in 1972 and moved to Sanford, Florida to practice law.
"I've always been a proponent of justice and the civil rights struggle," Perry said in statement. "But I knew that with a law degree, that would get me into places that I would otherwise not be able to get into."
In 2000, Perry became the first African American appointed to the 18th Judicial Circuit after being named as a circuit court judge in Sanford by then Governor Jeb Bush. Nine years later, he was appointed by then-Gov. Charlie Crist to the Florida Supreme Court. He retired on Dec. 30, 2016 because the state Constitution requires judges to step down at the age of 70.
Perry said in a statement this week that he was not only honored and "pleasantly surprised," but he hopes his name on the building will inspire future individuals to pursue their dreams.
"I'm a humble person. I don't think I'm all of that," he said in a statement. "But I see part of my responsibility to inspire younger people — and inspire older people, too — who come from similar circumstances that I did and even those who didn't."