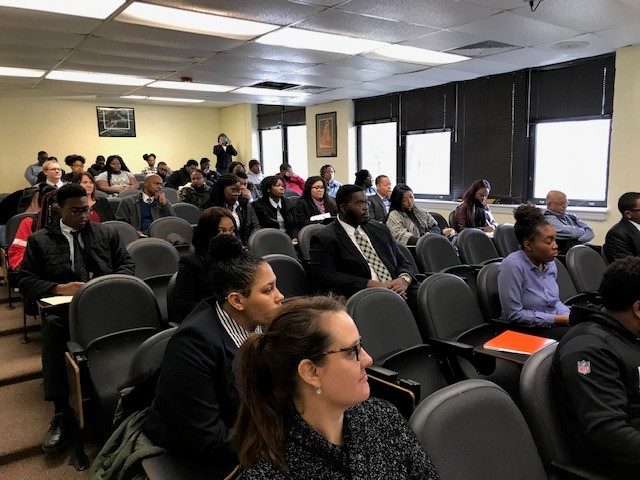 The School of Business & Technology Partners with the School of Sciences, Mathematics & Public Health to Host Red Hat
On February 12, 2019, students from the School of Business & Technology and the School of Sciences, Mathematics, & Public Health participated in the Science Seminar Series presentation to learn about opportunities at Red Hat, Inc. Red Hat is the world's leading provider of enterprise open source solutions, including high-performing Linux, cloud, container, and Kubernetes technologies. The presenters, one of whom is an SAU alum in film studies, were dynamic and enthusiastic in their explanations of opportunities within the enterprise and their individual roles. They described how the company has a focus also on outreach and in that regard, through Red Hat Academy, free training opportunities are provided for students and faculty. Students were very engaged and asked many insightful questions. Due to the student enthusiasm, Professor Bethell in the CIS department is exploring adding additional Red Hat certification preparation courses.
Special thanks goes out to Dean Van Sapp, School of Business and Technology and Dr. Sarah Straud, Science Seminar Coordinator-SSMPH, for spearheading this successful endeavor. We are hopeful that more collaborations and partnerships between Schools will increase student participation and increase overall impactful and meaningful outcomes.