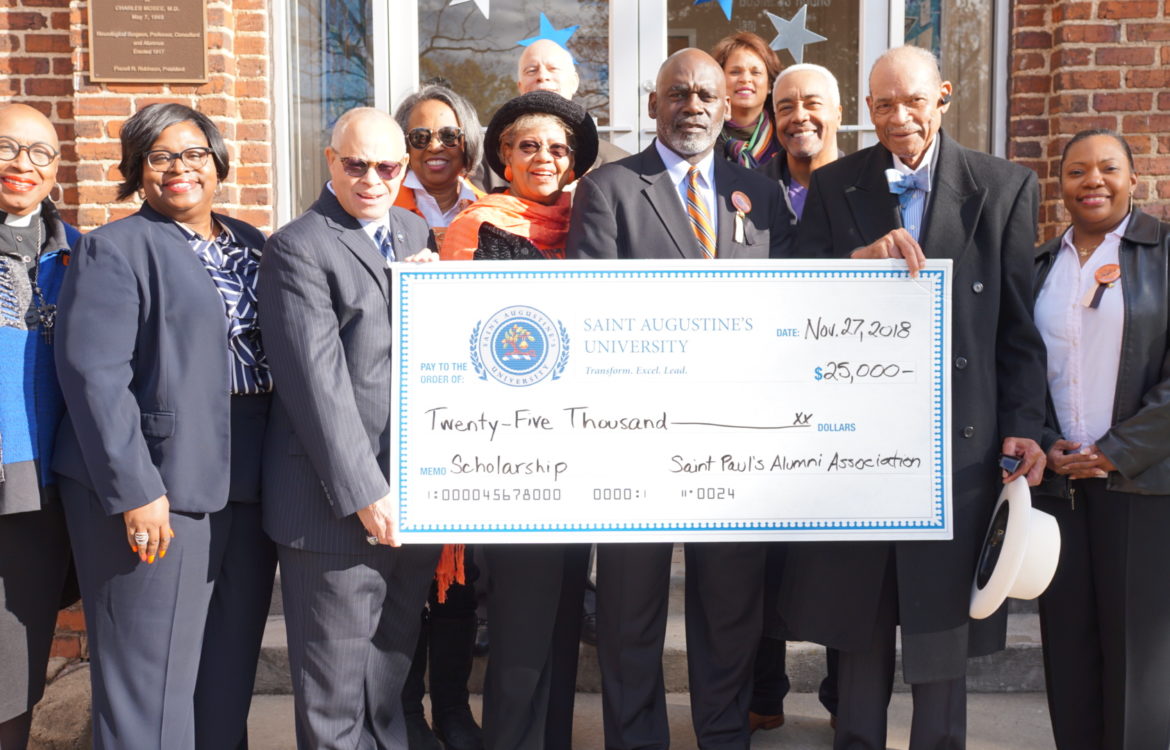 Saint Paul College Alumni Make $25,000 Donation to SAU
The Saint Paul's College (SPC) National Alumni Association recently provided a $25,000 gift to Saint Augustine's University (SAU) as part of the GIVING TUESDAY celebration recently held nationwide. Saint Paul's College, which was one of three Historically Black Colleges and Universities supported by the Episcopal Church, the others being SAU and Voorhees College in Denmark, South Carolina, closed its doors in 2013.
After the closing of their alma mater in 2013 and after serving its students for 125 years, members of their alumni association vowed to preserve the legacy of Saint Paul's College by presenting the check which will be endowed to provide scholarships for Saint Augustine's University students.
"It has been a pleasure working with the alumni of Saint Paul's College as we seek to cultivate this friendship and solidify the gift," said Dr. Steve Hairston, Vice President for Institutional Advancement. "Their philanthropy will ensure that the legacy of Saint Paul's College will never leave our minds in spite of the fact that this once great Episcopal Church-affiliated HBCU is no longer in existence."
During the announcement, SPC's alumni association was presented with a football jersey from the last varsity team to play at Saint Paul's College, as a remembrance and commemoration of the great strides that the SPC student-athletes made on the gridiron.
Saint Augustine's University has invited members of Saint Paul's National Alumni Association to serve as special guests at the SAU's annual Stone of Hope Fundraising Gala, which will be held on May 10, 2019, in Raleigh.
###