SAU and United Way Partner on MLK Day of Service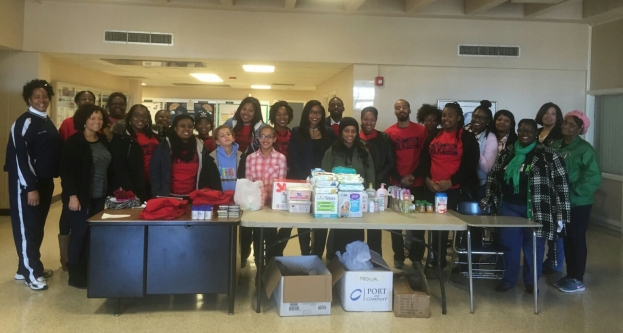 On January 18, Saint Augustine's University partnered with the United Way of the Greater Triangle to host a Community Baby Shower in observance of the life and legacy of Dr. Martin Luther King Jr. through a day of service.
With the support of faculty, staff, students, alumni and the community donate more than 6,000 diapers, nearly 11,000 baby wipes and other baby essentials such as baby food, bibs, bottles, pacifiers, baby wash and baby formula to aid families in the Triangle area.
Ann Brown, dean of women and director of Camp Life, shared that statistics show that in the Triangle area, one in three families struggle to buy diapers for their children. Without basic items like diapers and wipes, infants and babies are at risk for health issues and are not able to enroll in child care centers, impacting their parents' ability to work or attend school.
Brown, who spearheaded SAU's Community Baby Shower, expressed that the community baby shower could not have been successful without the generosity of others.
"The University could not have reached our goal of donating 6,000 diapers without the support of our Falcons and the Raleigh community," Brown said. "I truly thank our volunteers for their time. However, I was especially proud of two youngest volunteers, who were a sixth and seventh grader."
Each volunteer received a T-shirt, a thank you card and SAU hand sanitizer wipes.