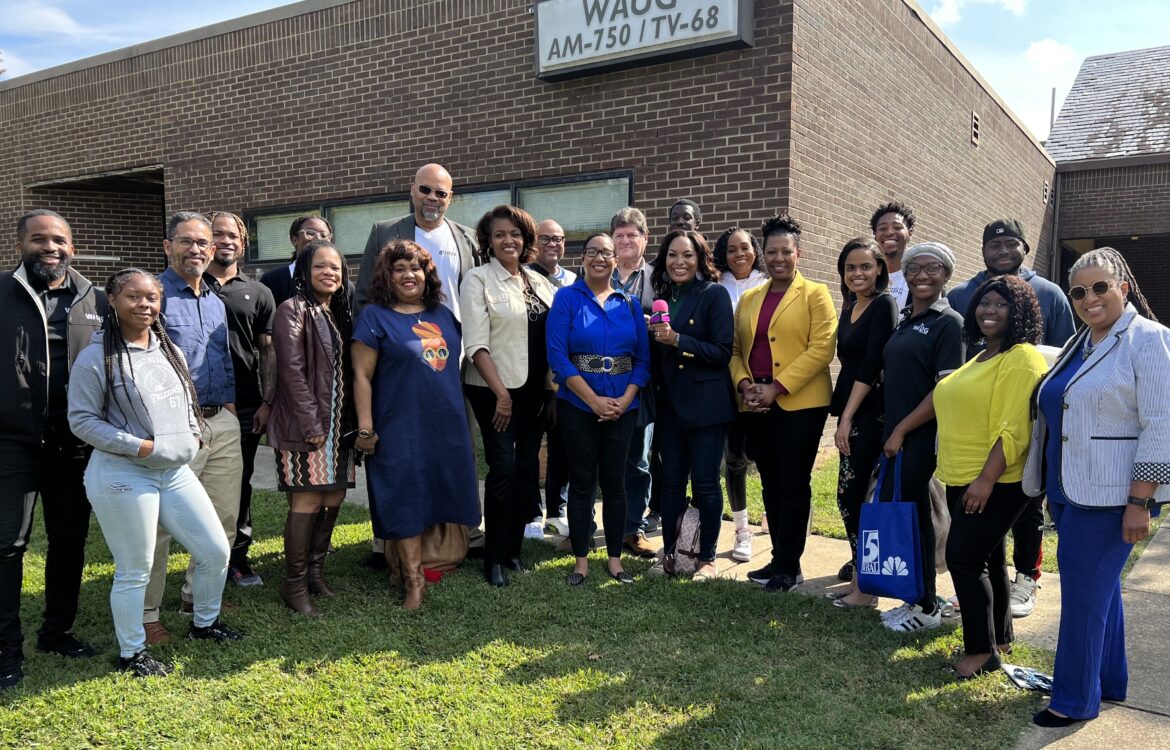 Student Journalist Group is Revived with Help of Professional Journalists
With help and encouragement from local journalists, a student chapter of a national Black journalist group has been revived at Saint Augustine's. The Saint Augustine's University Association of Black Journalists (SAU-ABJ) has officially been established as a student chapter of the National Association of Black Journalists (NABJ). This nonprofit group supports, trains, and advocates for journalists of color.
The newly appointed officers of SAU-ABJ are:
President, senior Shappelle Marshall

Vice president-broadcast, junior Naiylah Archer

Vice president-digital, junior Miles Beasley

Secretary/treasurer, sophomore Sasha Rowland
All are Media & Communications majors. The faculty adviser is Dan Holly, Media & Communications program coordinator.
Last month, the new chapter got a significant boost when the Raleigh-Durham chapter of NABJ (NABJ-RDU) visited SAU. That group – which consists of reporters, editors, and other professionals working for TV, radio, newspapers, and other media outlets, as well as other communications professionals from public relations firms and academia – has launched "College Tour," an outreach campaign to local journalism students. SAU was the first college chosen for the campaign.
In a meeting on October 8 at the Seby Jones building, NABJ-RDU President Marie Torres explained that the group aims to establish closer ties with area colleges, especially HBCUs, and to guide students interested in journalism. Torres and other NABJ-RDU members pledged help, guidance, and support.
"We know you are the next generation of us and that you are going to need support," said Torres, an executive producer at Spectrum News. "We offer our shoulders for you to stand on."
Midway through the meeting, the kind of help NABJ-RDU could provide became clear when Rod Carter, weeknight anchor for CBS 17 TV news, unexpectedly offered to pay the dues for all of the students in attendance to join the National Association of Black Journalists.
Dan Holly, the Media & Communications program coordinator, thanked Carter for his generous gift. Holly mentioned that this gift would help revive Saint Augustine's student NABJ chapter, which he explained had been hampered by the campus shutdown during the pandemic, then the graduation of student officers. Holly added: "Mr. Carter's generosity is a great illustration of the willingness of journalists to help the next generation. It's truly wonderful to see how successful journalists are willing to reach back and help students so that others can experience the success that they have had."
Holly subsequently appointed the SAU-ABJ chapter officers, and they met for the first time in three years on November 10. However, the officers will have to run for election in April under the group's constitution.
Also at the October meeting was Associate Vice President of Global Marketing & Communications Demarcus Williams, Arts & Communications Department Chair Dr. Kaye Celeste Evans, and Assistant Professor of Media and Communications Dr. Dan Trigoboff. NABJ-RDU members at the meeting included Deborah Noel, host of Black Issues Forum on PBS North Carolina and a 1989 graduate of Saint Augustine's, and Gayle Hurd, a news anchor at WPTF Radio in Raleigh.
After the meeting, members of NABJ-RDU toured the WAUG wing, led by Williams, along with SAU communications students. They showed the visiting journalists the radio station, the new control room for the TV station, and the TV studio undergoing a $1 million renovation.